Ensuring Good Customer Outcomes
March 2022
OMNIMax Managing Director, Jonathan Taylor and Pauline Davis, Head of Technology for the BNZ Wealth Business, have a quality conversation about OMNIMax OMNIEngage – the digital solution keeping advisers and clients on the same page…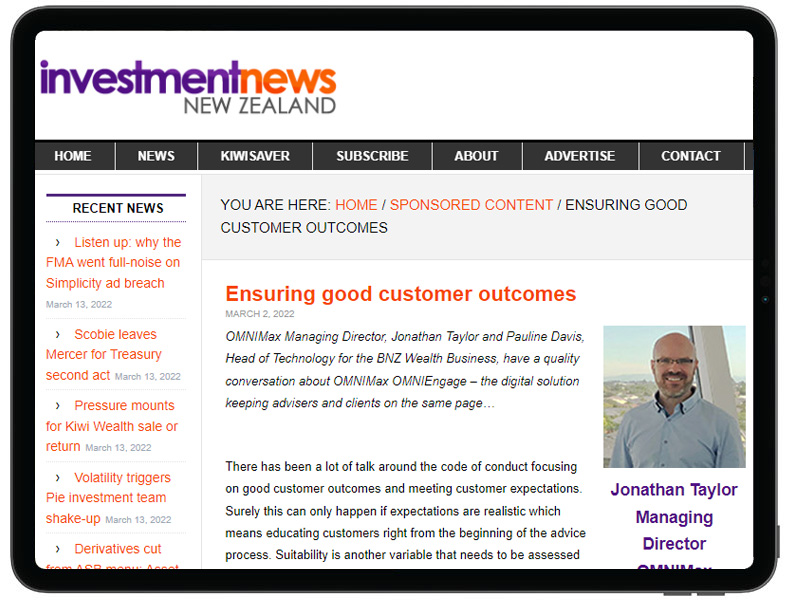 Providing the Personalised KiwiSaver Advice that Clients Deserve, at Scale
January 2022
Amicus Group finds the answer to service its KiwiSaver clients. Amicus had identified that they had a large client base in the KiwiSaver space and faced the growing challenge of how to engage all these clients and maintain the personalised advice that they deserve, citing it was "almost impossible the old way"…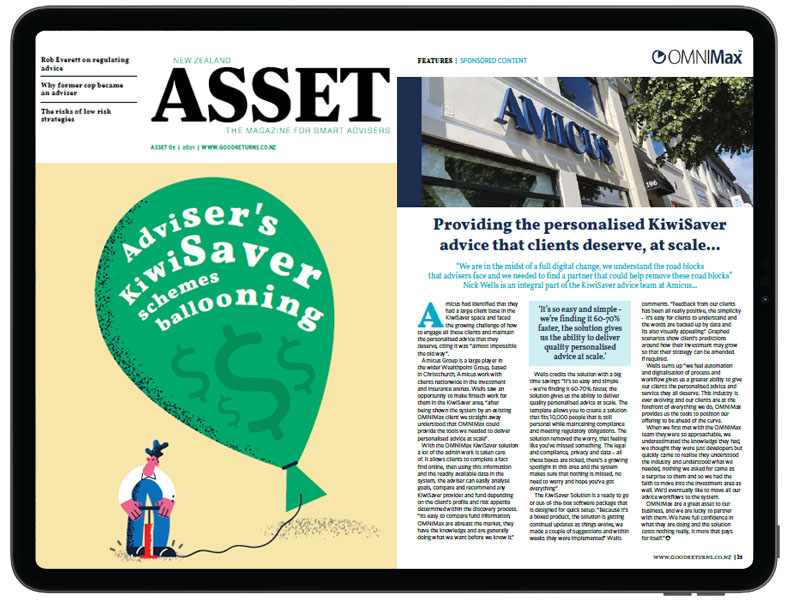 A Custom Solution, for Custom Advice, in a Fraction of the Time
November 2021
"I can't understand why technology isn't more widely used by advisers, it's all manual Word docs and spreadsheets. Every place I go, I try to have OMNIMax implemented." As a graduate James Kara considered himself lucky to join a financial practice that had implemented a bespoke OMNIMax solution…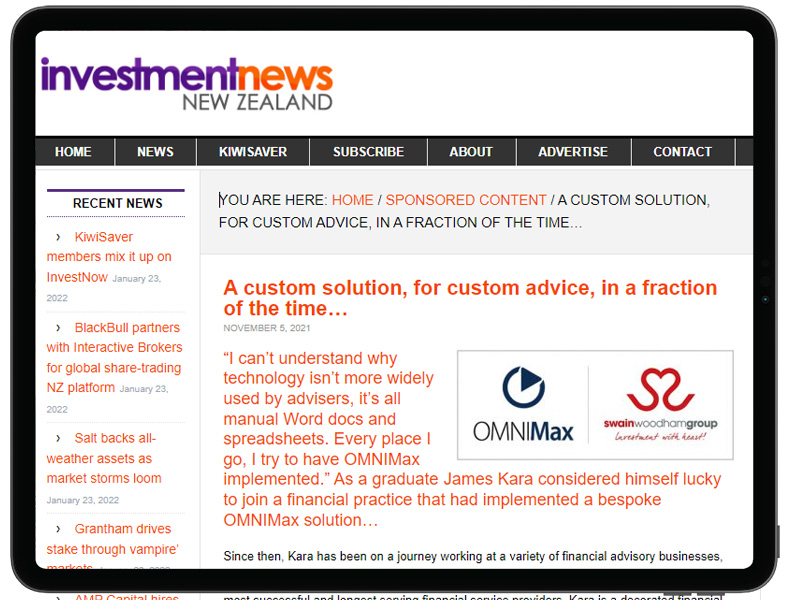 Work Smarter; Save 2-3 Hours on Your Investment Plans!
September 2021
"We feel there's a need to lean on tech processes in order to grow…" A recent comment made by a financial adviser suggesting they were already under the pump and needed to free up some time if they were to look to increase their portfolio of customers. Coupled with the suggestion that there is more admin than ever before with the new regulations, there is a definite need to find faster ways to manage the investment process…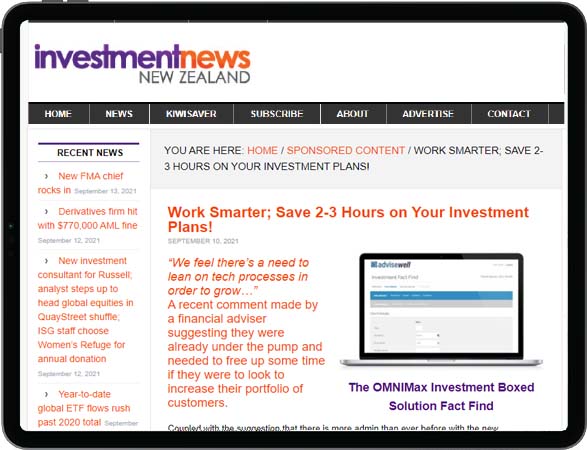 The Challenges of Going Digital
July 2021
It's easy to talk about 'going digital' and visualise the benefits of digital advice tools – become better, faster, but it's not as easy to make it happen. "Embracing digital within your business can boost your profits by improving efficiency and leaving more time to both spend with clients and gain new ones", says OMNIMax's director, Jonathan Taylor…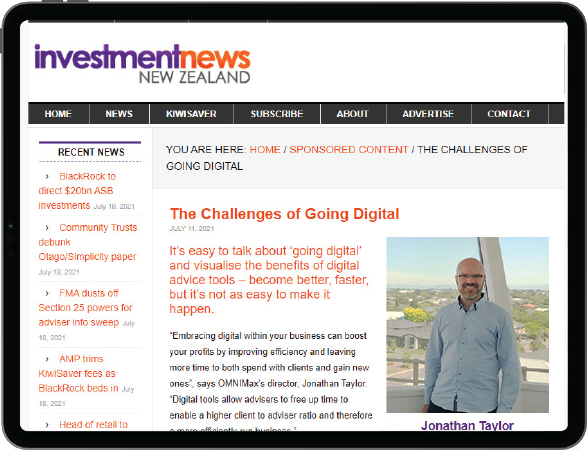 Model Client Scenarios in Real-Time
June 2021
A picture paints a thousand words. We all know the saying and its meaning as it relates to people's quick understanding of any concept or situation based on a single image rather than paragraphs of text, and so that begs the question why don't we use this to our advantage?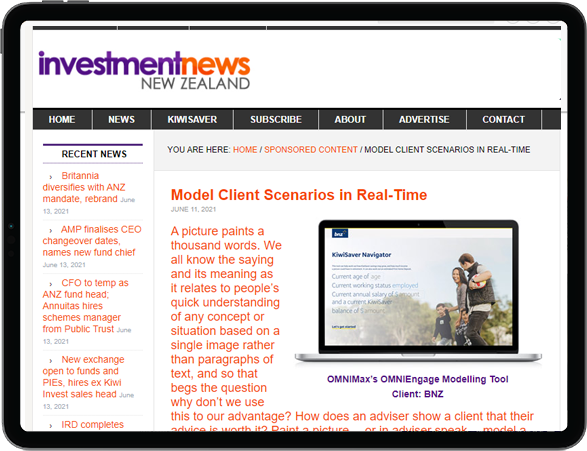 A Fast, Efficient Solution for KiwiSaver Advice
May 2021
As the KiwiSaver market increases advisers are searching for quicker, simpler, and more efficient ways of giving advice to adapt to this low fee-paying customer base, while still providing great advice and retaining investors as long-term clients. To do this more advisory businesses are turning to software solutions…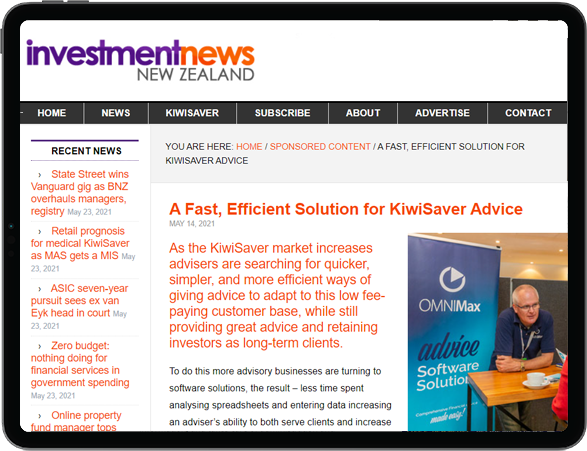 Making Software Solutions Work for Our Clients & Theirs
March 2021
When an out-of-the-box solution does not suit OMNIMax develops a bespoke solution to match a client's workflow and vision. Strategic is one of OMNIMax's clients that falls into this category…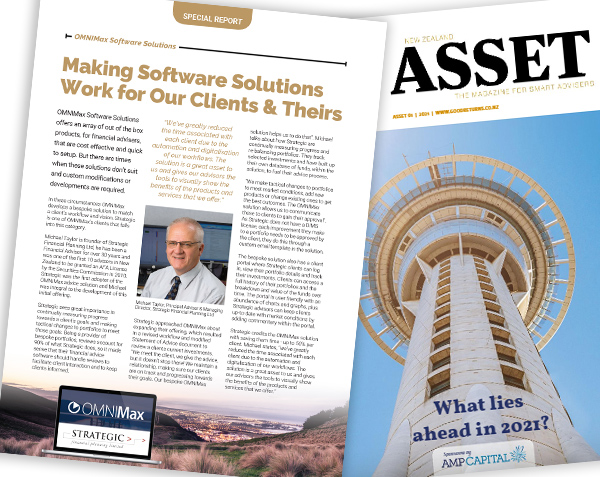 Does Your Brokerage Have a "Repeatable" Online Process?
February 2021
Building an adviser platform can often be like the process of building a home – you either begin from scratch, or you can choose a 'standard plan' or a template that you can then adjust to suit your needs. OMNIMax specialises in platforms dedicated to investment and KiwiSaver advice…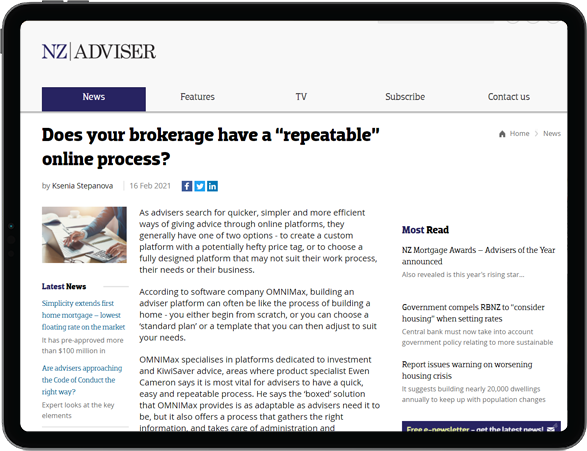 Should I Shift to a Digital Advice Process?
December 2020
Have you been thinking about going digital but not sure if it will benefit you and have no idea where to start? Jonathan Taylor, our Managing Director at OMNIMax Software Solutions, answers your questions about going digital with your advice process…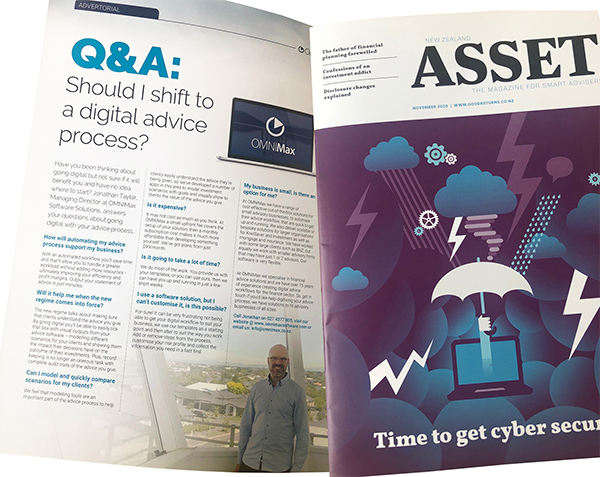 Isbister Partners KiwiSaver Tool
September 2020
The new Isbister Partners online Kiwisaver tool is designed to help you work out where you are at, find the appropriate scheme and play with the contributions you want to make and then you can join up online with their new Lifestages sign-up portal.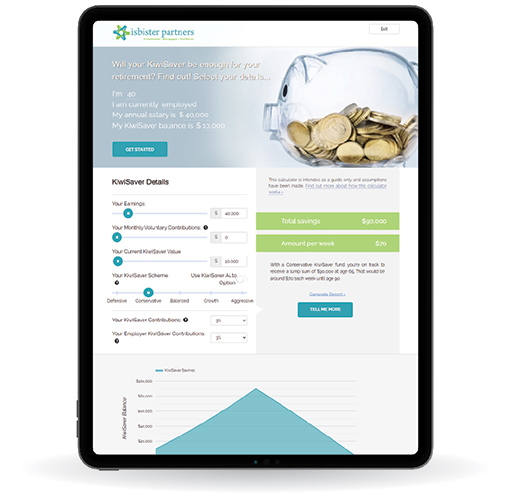 Compound Wealth App Launch
September 2020
Compound Wealth has made use of our OMNIEngage calculator tools to get their customers interacting online… This retirement calculator allows a more in depth look at and modelling of your retirement scenarios!
Project Launch for Lifestages
July 2020
Will you have enough money when you retire? Lifestages use OMNICalc to engage their website visitors and make sure they are informed! We've recently launched this FMA compliant KiwiSaver calculator for Lifestages, try it out here…
OMNIMax & BNZ work together to help BNZ customers get the most out of KiwiSaver
June 2020
A few simple tweaks to your KiwiSaver investment, like choosing the right fund or setting a higher contribution rate, can have a big impact on the amount you save. The KiwiSaver Navigator tool was built by OMNIMax in collaboration with BNZ, to help BNZ customers see what a difference these small changes could make…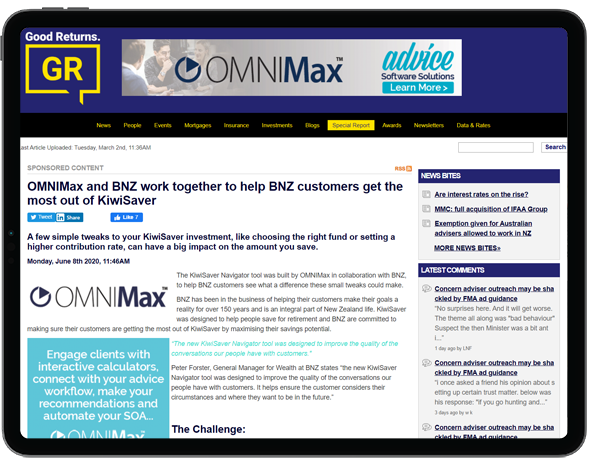 OMNICalc Launch for FoxPlan
May 2020
FoxPlan use OMNICalc to engage their website visitors and generate leads! We've just launched two updates for FoxPlan including a new FMA compliant KiwiSaver calculator and their upgraded 'investment slider' (pictured) – calculate how much your savings could be worth with FoxPlan…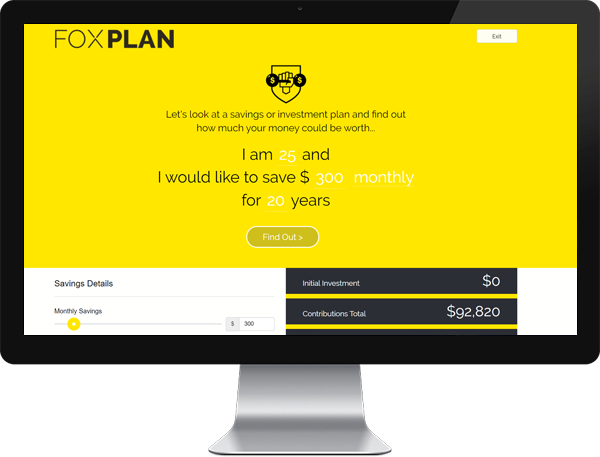 Subscribe to Our Newsletter
Simply enter your email address to receive updates and news from OMNIMax!